Awake: 6:10am Temp 62 sleep 5+34 sunny overnight @ Nicktown, PA.
After the Koffee Klub meeting this morning, Kathy went to the church hall to help make more noodles & I visited the Krumenacker Hardware Store. I purchased a Junction box, GFCI (ground fault circuit interrupter) & a waterproof cover assembly for the junction box.
After my breakfast, I picked more blueberries on our property; they are really good. Then my local partner in crime, John, drove into our driveway. Just recently, my neighbor Al has been having trouble with his riding mower; John volunteered to help me help Al's fix.
At the Koffee Klub Al described his riding mower problem as: "one of the two blades doesn't seem to be cutting grass and, whenever I stop the engine, one of the blades continues spinning.
John & I gathered some tools from my tool box & we walked across the field to Al's manicured property. Another problem popped up when we saw Al; he said his mower engine won't start now. John & I witnessed Al's attempt at starting the engine &, sure enough, there was a strong fuel smell. John raised the cowling & I removed the spark plug. It was drenched with fuel. However, there in our mist...was a strong clue to this dilemma: a good sized mouse house sitting on top of the engine just to the right of the air cleaner.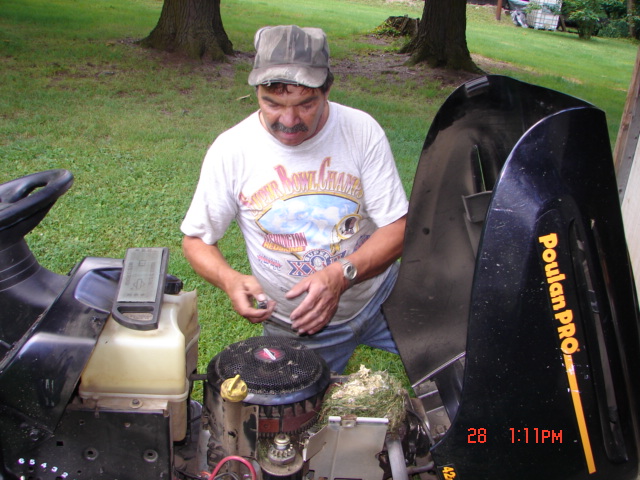 After John cleaned the air filters & engine with Al's air compressor, I wrapped the ignition wire leading to the spark plug with electrical tape. Quite a bit of that rubberized coating on the ignition wire had been chewed off, perhaps stealing some spark from the spark plug.
Then Al turned the ignition key & vroom, that engine powering the Poulan Pro mower came to life instantly.
Next, we pushed the mower about (10) ft into a shady area; using a wooden box, we tilted the side of the mower that had the free spinning blade & blocked it up. Now the problem was obvious; somehow this blade was not tightened enough to the star detent & caused the blade to freely spin.
John & I decided to remove the bearing as well; due to the star detent being so worn down, it needed to be replaced. We gave Al the worn parts that needed replacement & told Al if he could get the replacement parts, we would highly consider putting everything back together this afternoon.
While Al drove to Spangler for parts, I invited John over to our motorhome & asked Kathy if she would like to join us in having some wine, cheese & crackers. After she put the wine & snack together, she joined us outside.
Would you believe, Al returned with a big smile in about (20) min with all new parts. Since rain is forecasted for tomorrow, we campers finished our wine & snack time & then went back to work & finished the job (except for (3) screws that need replacing). John & I both enjoy helping our near neighbors when & if we can.
Dinner: leftover Italian sausage & spaghetti, mixed salad & Bing Cherries.
Lights out: 12:02am