Awake: 6:00am Temp 54 sleep 6+27 sunny overnight @ Nicktown, PA.
K & I skipped the koffee klub meeting this morning & motored 1st to Barnesboro to pick up our Shingles vaccine @ Watters Drug store & then to Carrolltown. There I had my annual physical & blood work checked, Kathy had a physical breast exam following her mammogram, & we both got our Shingles vaccine injections. "A-ok" says the doctor.
Next we motored to Emeigh Run & purchased some Italian sausage, pork chops, & hamburger from Kirsch's Meat Market; a new place for us, always in search of good meat.
On our way there, we passed Paul & Pearl's house, saw Pearl sitting on the porch & decided to stop. Paul is into ham radios; was a good friend of my cousin, Clyde; & was instrumental in me getting my general ham license. We enjoyed a 30 min visit with them; although, Paul is in good health & keeps busy, Pearl has had some health problems which have really slowed her down. Then we return to Barnesboro in search of (2) different sized fuel hoses & a spark plug for Donna's Honda bike. Proper plug & fuel hoses to size were not available in either Fisher or Carquest auto parts stores.
While Kathy meandered over to Giant Eagle, I motored back to Carrolltown & found the proper sized fuel hoses @ Banik's but not the required sparkplug as yet. Then back to Barnesboro where we both had our eyes checked. Mary was very thorough & complimented us on our good vision.
After returning to our motorhome, I replaced the old fuel hoses on the Honda bike with new ones.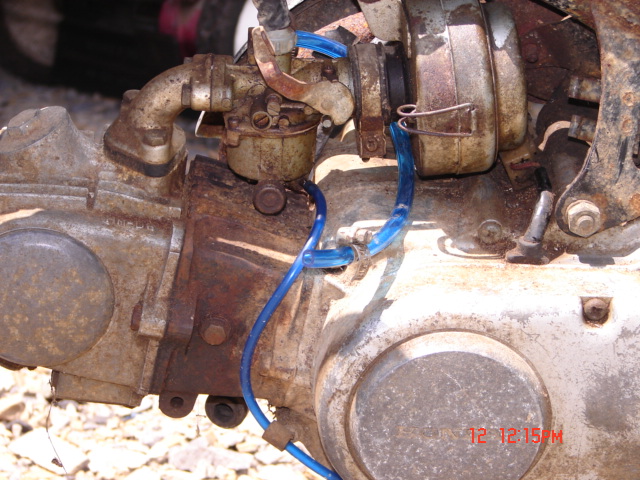 Melissa called looking for a crochet pattern that she thought she probably loaned to Kathy. She might have, but unfortunately, if Kathy has it, she does not know where it is.
Nick called from Seattle walking home from work; he reports on Jerry's so....so...sleeping habits & other bits of interest.
Dinner: Italian sausage with peppers, mushrooms, & onions, a mixed salad & a fruit salad.
Evening movie: "The Good Fairy." We watch 1/2.
Lights out: 12:31am