Awake: 5:55am Temp 12 sleep 6+22 sunny overnight @ Nicktown.
After our KK meeting, I visited the REA guys to try & learn more about this geothermal system. Actually, they were a little too busy @ this time, so I will be patient & try another time.
Kathy made quite a few phone calls early morning...regarding the granite counter top,& obtaining tile samples.
Late morning, Bernie visited us & invited us to join him after lunch for measurements on faucets, showers & shower heads.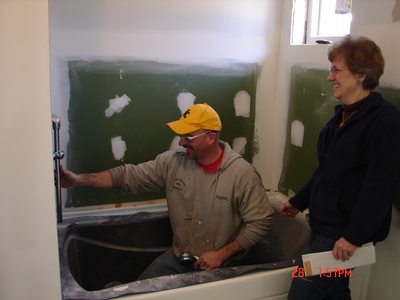 Mid afternoon, Kathy made a color change in our master bedroom & when the painters finished, she was delighted.
Meanwhile, I filled a form out for auto pay ...for our electricity. Later, Kathy also called Hans regarding the suspended ceiling tiles.
Late afternoon I called Al's Tire Service & asked Neddie for an update on Kevin's Ford Van. She told me Dave was going to install a new blower motor & then he thinks he will be finished.
Kathy & Melissa made several calls back & forth, mostly talking about the bridal shower in Chicago.
Dinner: Almond topped cod fish, brown rice, mixed salad, & sourdough toast.
Lights out: 11:36pm.