Awake: 6:53am Temp 51 sleep 6+45 partly sunny overnight @ Nicktown.
After joining the KK members, we returned to our BIG DIG & realized all the workers were now covering the gravel covered basement floor with (1) inch foam. All drain lines, the initial geo-thermal lines, Radon, etc are being covered up with this foam.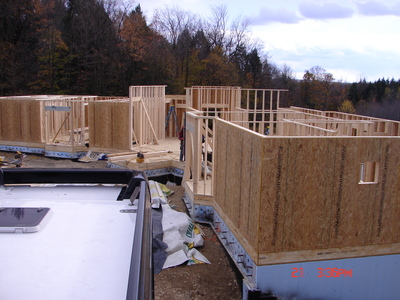 I also realized that the compactor roller hadn't been picked up yet...so I delayed my breakfast & repeated my "all shook up" rolling the yard for another (40) min. The yard seems to be getting a little smoother but it could be my imagination.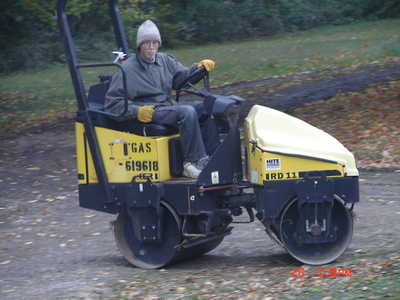 (20) min later as I was eating breakfast, a truck backed up, the truck bed tilted & away went that compactor roller.
Shortly after breakfast, we had some distinguished visitors; Rosemary & Gary have returned from Denver. They wasted no time in getting updated on our home project simply by walking around in a wide circle. They couldn't hang around very long due to Gary's plan of mowing his grass before the rain moves in.
I did ask a favor however...on their way out driving their car, would they give us a thumb's up if the yard feels smoother or down if no change. Of course we were counting on a positive response but.... I've never seen Gary's thumb look so large pointed in a downward direction. Ouch!
Bernie tells us....they are ready for Scott, the Geo man, to come in & (weather permitting) start building the geo tubes throughout the basement floor.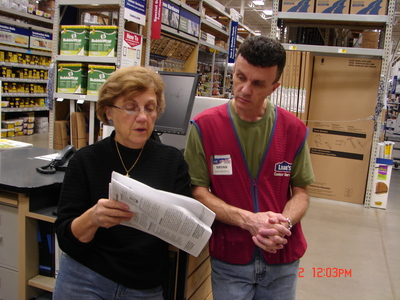 Next, Kathy & I attended 6:00pm Mass &, afterward, Theresa sort of encouraged us to have a Shock-Top beer with her @ the Nicktown Bar. How could we refuse + we enjoyed some good & funny talk.
Nick called while he was waiting for the bus in Seattle. We updated each other on his home buying progress & our home building progress; plus, we viewed Facebook & got to see the blue super suit that a co-worker made for Jerry. Neat job & nice fit, Jerry.
Dinner: Salad with Triscuit Thin Crisps & popcorn while watching 1/3 more of the movie: "Holiday in Mexico."
Lights out: 12:34am.