Awake: 6+54am Temp 47 sleep 7+00 sunny overnight @ San Diego, CA.
My sister Corinne & I had a series of questions & answers via e-mail this morning mostly getting Momoko's name correct & its meaning. "Peach" I told her & I love it!
In the process, she mentioned that she will soon make time for visiting a few of our 1st cousins; especially Bernie & Richard. That e-mail chat reminded me that I haven't talked with Bernie since we left Nicktown October 13th.
After locating his number, we had a little gab session together. He cautioned me not to start motoring back to Nicktown just yet. "It's going to be awhile before the snow melts," he told me.
Zack & Kathy have been e-mailing back & forth also...dealing with the guest list for Katie & Zack's wedding sometime next yr.
About 12:40pm, we motored to downtown San Diego & spent about (15) min driving around to find a (no fee) parking spot fairly close to downtown. We have wanted to casually just walk the streets in daylight & see all we can see. So this is a start. Now that is one snazzy fire hydrant!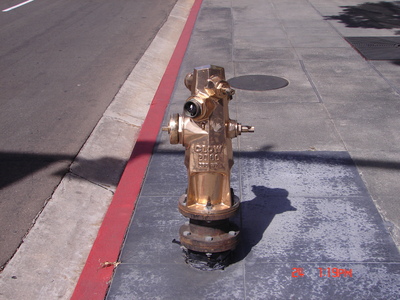 Kathy also had a package she wanted to mail using FedEx, & so we figured they would have many offices scattered around town. After a good (50) min of free-and-easy walking & seeing the sights, we thought we'd better get the package sent....plus Kathy needed a suitable box to send it in, which a FedEx office would have.
I reflected on taking this photo....to shoot or not to shoot?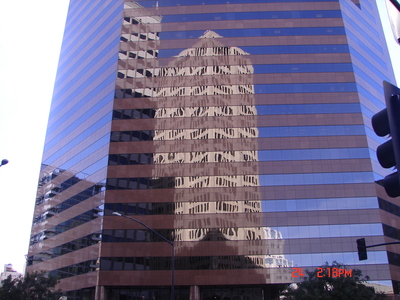 With the help of some greeters behind the counter of the huge Bank of America building, we found the FDX office only (50) feet from where we had walked a street several times. By the time we exited the office, our clock time for further sightseeing was vastly limited. Yes, the parking spot was free, but had a (2) hr limit & those metermaids mark car tires. Speaking of limits, how long do you think this couple can remain motionless?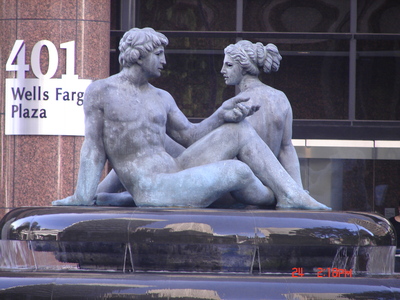 We had time for a short visit to Macy's for a comfort stop & then maybe (15-20) min for checking out the latest high tech stuff in the Brookstone store.
Then we started walking the hill toward our Suzuki. Just ahead was the famous EL CORTEZ Hotel. In 1966, another fellow & I flew a small airplane from (I think) the Palo Alto airport (which is no longer) all the way to San Diego. It was the 1st time I had been here; we visited the Charles Lindbergh Museum (which is no longer) & rode the outdoor glass elevator of the El Cortez Hotel.
San Diego in 1966, was much smaller & the view from the top (20 th floor) was breathtaking. I'll never forget it!
So walking to our car, we took a different street so I could show Kathy the glass elevator that I so fondly remembered. As we got closer, no elevator; we walked ¾ around the building & still, no glass elevator. Kathy accused me of imaging things.
The Suzuki was chalk free; it hadn't been marked. Just out of curiosity, I had to go in that hotel to find out what happened to the glass elevator.
Be patient; 1st a little history about this place: Built from 1926 to 1927, the El Cortez was the tallest building in San Diego when it opened. It sits atop a hill at the north end of Downtown San Diego, where it dominated the city skyline for many years. From its opening in 1927 through the 1950s, it was the most glamorous apartment-hotel in San Diego. The large "El Cortez" sign, which is illuminated at night, was added in 1937 and could be seen for miles. In the 1950s, the world's first outside glass elevator and the first motorized moving sidewalk were built at the El Cortez.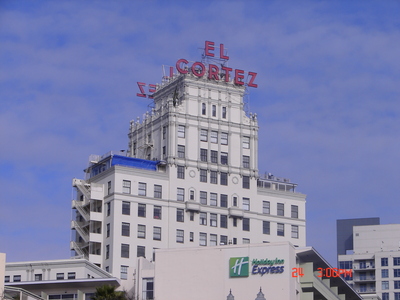 Returning to the car, I had the answer for Kathy:the sign on the big locked door read: this building is no longer a hotel, it is a condominium with (85) luxurious apartments. Oh, by the way, we walked a mere (3.3) miles today.
Dinner: leftover tuna noodle Florentine, cream of asparagus soup with ham chunks & sun flower whole wheat bread.
Evening movie: "All through the Night" with Humphrey Bogart, Conrad Veidt, Kaaren Verne, Jane Darwell, Frank McHugh, Peter Lorre, Judith Anderson, William Demarest, Jackie Gleason, Phil Silvers, etc. Bogart's gang tracks down Fifth Columnists (Veidt, Lorre, & Anderson) in WW2 N.Y.C. Interesting blend of spy, gangster, and comedy genres, with memorable double-talk and auction scenes.1942. Better than we expected; we also enjoyed seeing some of the young actors like Jackie Gleason & Phil Silvers. Another movie that kept Kathy awake & interested! We had light rain during the movie but didn't realize it until bedtime.
Lights out: 12:09am.