Awake: 6:42am sleep 7+19 frost, then sunny overnight @ Seattle, WA.
Nick walked over @ 9:00am to join Katrina in a 45-min run around Queen Anne; "'twas a little cool" Katrina admitted.
Late morning, Kathy & I caught the city bus just around the corner to go to lower Queen Anne with Nick & Jerry. I called Nick on his cell phone so he would know we were en route & he could catch the same bus.
1st we visited the FedEx Office & sent a special package to PA; then we scrutinized the large Metropolitan Market, just below the FedEx Office, for some wine & groceries. Next, we walked a block & toured a true wine & spirits store + bought a few items for another special occasion early next yr. For the most part, our shopping was complete.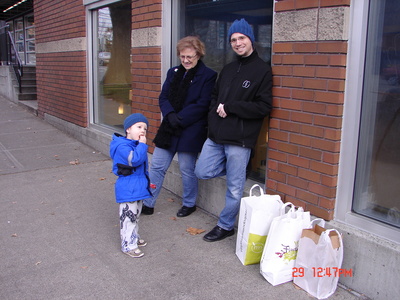 Then we caught the bus & returned to Queen Anne Hill. Jerry & Nick, of course, got off at their stop & we continued on to Safeway, looking for (1) more item, which was not available.
We walked back to Zack's house, approx (9) city blocks.
Around 1:30 Nick, Eriko & Jerry arrived; Nick is our chef & Kathy our back-up for tonight's dinner. Nick ordered dry bar-b-q seasoning as well as wet bar-b-q sauce from the Rendezvous in Memphis, TN...one of our favorite restaurants when we lived there.
Kathy already coated the ribs with the dry seasoning, wrapped them in plastic wrap, & refrigerated them. The ribs have to be slow baked for @ least (4) hrs. Nick & Kathy kept their eyes on the prize & turned out delicious ribs.
Since, Kathy felt we might not have enough ribs, she also made pork tenderloin, using the same Rendezvous seasoning. We also made oven roasted rosemary, parmesan potatoes, salad, broccoli, & bread from Macrenna's.
What a scrumptious & pleasant-tasting meal; to me, it was almost like eating dry ribs @ the Charlie Vergas Rendezvous in Memphis. We need to do this more often.
After the dinner dishes & kitchen were properly cleaned up, Katie & Zack introduced us to yet another new game called: "Wii." This game has many sub games like: Fit, ski jump, bubbles, hula-hoop, etc. One stands on a platform that senses motion, balance & weight from the participant which is enough to activate movement on the screen to complete the game or activity being performed. We all participated with these young people & their challenges; what great fun it was. In fact we were having so much fun, we nearly forgot the hour.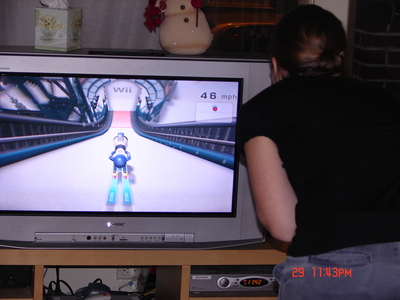 Lights out: 12:54am.