Awake: 6:18am Temp 50 sleep 6+36 sunny--warm overnight @ Nicktown.
About 8:15 am this morning, 84-Lumber arrived & backed up close to our house.
They were delivering nearly all of our inside doors for the main floor & basement.
After our KK meeting, Kathy motored to Carrolltown for a check on her blood pressure. It was good & the doctor was pleased.
Our forwarded mail arrived from Alaska late morning...so I spent some time going through the bundles.
Sometime around 4:40pm, my sister Corinne arrived to share the rest of the afternoon & evening with us + dinner & maybe a movie.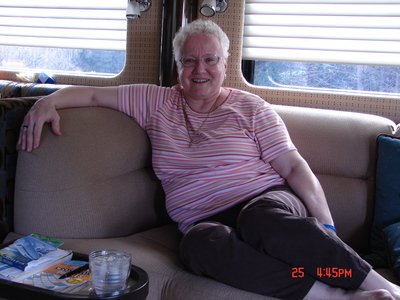 But 1st, Kathy served a deviled egg, some Triscuits & 1/3 of an apple as an appetizer. Then we gave Corinne a tour of our house, which she missed the last time she visited.
Dinner: Chicken Cacciatore with penne pasta, mixed salad & Como toast.
Afterward, I suggested a Nun movie, "Black Narcissus" for Corinne & Kathy to watch (while I did the dishes) since I had already seen this thriller.
We think Corinne figured out the plot way before the ending. I should have suggested an aviation movie.
We enjoyed seeing Corinne looking so comfortable in our motorhome. She left a little after 9:00 pm.
Lights out for us: 12:23am.