Awake: 7:11am Temp 60 sleep 6+41 mid morning drizzle overnight @ Nicktown.
We were both awake but still in our cozy queen bed when.....a diesel engine very close to our coach roared to life. Dick was pulling his motorhome around the circular drive in prep to hook up his tow car. Fortunately I was able to take a photo of him with Bernie & De De before he left; then we wished him a bon voyage, safe travels & a "thank you" for the visit. His wheels were on the move @ 7:35am.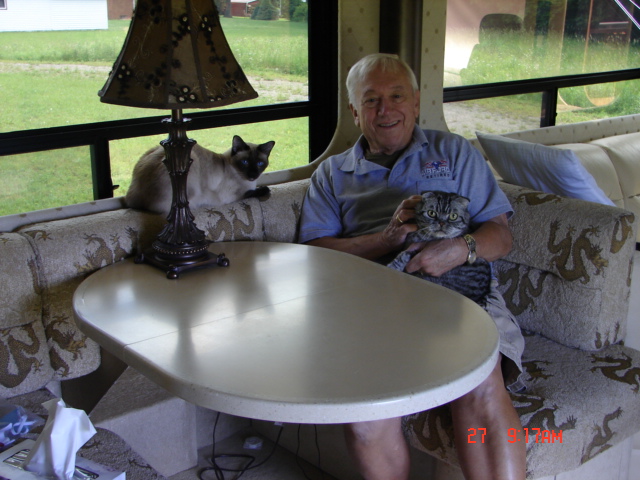 Dick's timing was right on for us, allowing us to attend 8:00am Mass @ St. Nicholas church.
Today our town is having a Classic Car Show & small picnic with Rock & Roll music by the P.T. Cruisers. And there is more: a choice of hamburgers, hot dogs, chicken dinner meal...etc. We invited the Foote family to come & join us.
@ 2:00pm sharp, the Footes arrived in our driveway. After a casual introduction to our motorhome & the nearby grounds, all (7) of us started walking to the Community Center where the celebration was taking place. Rows of classic cars could easily be seen as we entered the picnic area. Even after a mid-morning drizzle, the number of cars, trucks, & other vehicles present, was impressive. Usually any chance of precipitation what-so-ever, will either discourage the contestants from coming, or, if present, will leave upon the 1st raindrop.
I diverted from the Foote family & Kathy to peruse those classic vehicles as there was quite a few beauties to lay eyes on. Later, I joined up with the Foote boys in the playground area where Kathy, Melissa, & Kevin were spending time interacting with the guys as they enjoyed the swings, slides, a 4 person bicycle riding merry-go-round, & just playing as boys will do.
About 3:45pm, the Foote family & we gathered under a tent & had an early dinner of hamburgers, hot dogs, chicken, potato salad, & baked beans.
Rain was beginning to threaten the area around 4:30, the classic cars were leaving & we decided to do the same, sauntering back to our property where we said our goodbyes until we meet again. I enjoyed spending some time with Nathan & watching him ride on the bike merry-go-round...his expressions & antics were precious & very suitable for photo opportunities, but I had forgotten my camera.
Evening movie: "The Care Takers" with Robert Stack, Joan Crawford, Polly Bergen, Susan Oliver, Janis Paige, etc. At times incisive view of a West Coast mental hospital, marred by flimsy script & poor editing. 1963. We found this story very interesting in spite of the above comments; plus, the nurse stayed awake.
Lights out:11:44pm