Awake: 6:02am Temp 29 sleep 5+59 cold, windy & snow flurries overnight @ Nicktown.
Mid afternoon, my 1st cousins rang our door bell; It's Cy & his older brother Lou from Ohio. Starting tomorrow,They both will be joining their younger Brother Tony @ Saint Vincent's to hunt for deer for a week. Lou hasn't seen our house yet so I gave him a tour with brother Cy accompanying. There is no charge for 1st cousins.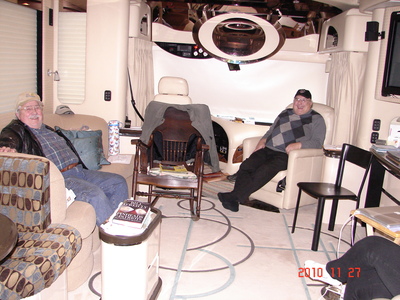 Later afternoon, Nick telephoned & we talked for over an hr; he brought us up-to-date on their (4) day combined business & social trip to Hawaii. The whole family climbed Diamond Head mountain & when Nick was conducting business with the Isilon people, Eriko, Jerry & Momoko got together with a friend of Eriko who lives on Oahu & they toured the island.
Late afternoon, I gathered some remnant blocks of wood, packed them into boxes & loaded them in our Suzuki for a later delivery.
Then K & I attended 6:00pm vigil Mass & afterward, John, Theresa, K & I visited the Nicktown Bar for some beer & yak-yak. The place was extremely crowded with quite a few people that we knew. The other conversations were so intense & somewhat overpowering, we choose to skip the pizza this time...but we did enjoy our time with each other.
Back in our motorhome, we watched: "The Big Heat" with Glenn Ford, Gloria Grahame, Jocelyn Brando, Alexander Scourby, Lee Marvin, etc. Time has taken the edge off once-searing story of cop determined to bust city crime ring; famous coffee-hurling scene still jolts, and Grahame is excellent as bad girl who helps Ford.1953. Good enough story to keep my partner awake, it was.
Lights out: 12:22am.