Awake: 5:43am Temp 25 sleep 6+16 overcast overnight @ Nicktown.
After our KK meeting, Kathy delayed her breakfast for now & did her P.T. late morning.
Earlier this morning, the 20-watt Halogen light bulb over our dinette burned out so I searched for a replacement in my box of bulbs. I have many 10-watt bulbs but no 20's, so I replaced the dinette bulb with a 10-watt for now & will add a 20-watt bulb on our shopping list;10-watts just doesn't have the lighting power for our comfort....this is DC current with 12 volts.
About 2:45pm, I visited the house builders & marveled @ the growing electrical wiring cables being pulled through the entire house.This you will see as you enter our home.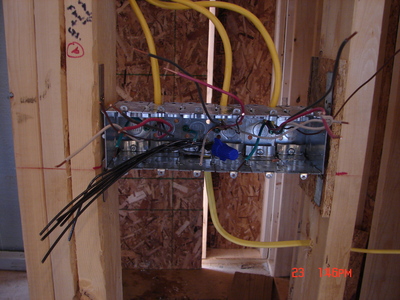 There are many more switches throughout the rooms.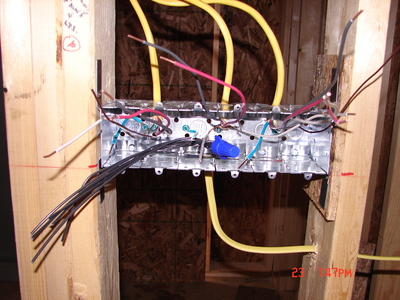 Break time for the guys who are doing such a good job of building our home.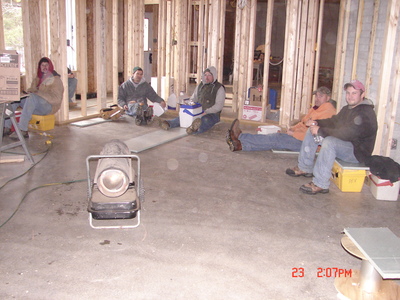 Late afternoon, Katrina called; she was @ a Costco store in Denver & was having a tough time selecting a new camera. She mentioned the Lumix which she had years ago & liked very much.... and today that updated Lumix has more telescopic power & Mega pixels. I think she talked herself into buying a new Lumix.
Dinner: pistachio crusted Tilapia, acorn squash, broccoli & toast. Late movie: "Oliver Twist" with Alec Guinness, Robert, Newton, John Howard Davies, Kay Walsh, Francis L. Sullivan, Anthony Newley, etc. Superlative realization of Dickens tale of ill-treated London waif involved with arch-fiend Fagin (Guinness) and his youthful gang, headed by the Artful Dodger (Newley). Later musicalized as OLIVER! 1948. This story was great! Kathy had seen the musical a few times & was most interested to follow the movie. Don't miss this version with Alec Guinness; it's the best.
Lights out: 12:19am.