Awake: 6:15am Temp 57 sleep 5+44 sunny overnight @ Nicktown.
Another distinguished guest honored us @ our koffee klub this morning; Terry doesn't visit too often as she also travels across (3) states to get here.
Early afternoon, we motored to the Foote Castle & spent time with our grandsons. Today's activities: blowing up balloons using a battery charger & a small 12-volt air compressor; catching over (30) leaf beetles from the Foote raspberry patch & putting them in a jar. Later, the glass jar was found nearly empty; nobody knew how it happened!
Matthew, the ring leader, stretched out the water hose into the back yard & then did a wonderful job of keeping Nathan & Andrew wet, however when Matthew mysteriously got wet himself, he quickly ran inside the house, changed clothes, & decided that game was over.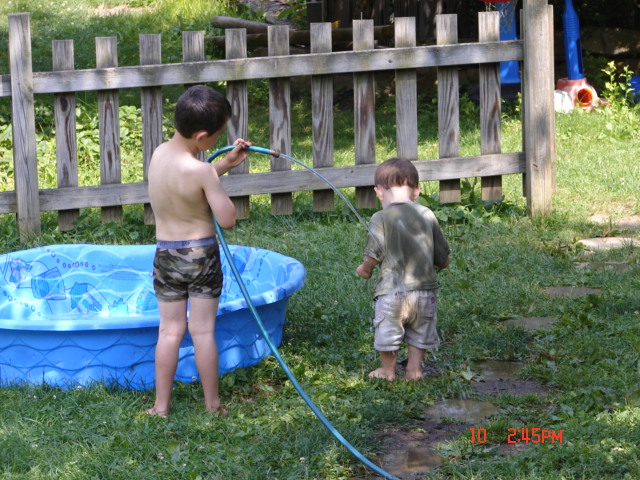 Up on the 3rd floor, while Andrew played with the train sets, Matthew & I played a miniature game of soccer. He's a smart kid; again he decided to quit when ahead; just like the water hose game.
Kathy, who had been playing with Nathan in the yard, traded places with me; she went upstairs & played with Matthew & Andrew while I played with Nathan. Lucky Nathan got frozen blueberries in a cup with spoon while getting a wagon ride around the block by yours truly. Even though he had the best deal, I sure enjoyed watching him watch the local activities & down those blueberries
After Melissa finished weed whacking the front lawn, raking & bagging the grass, she made delicious blueberry smoothies for all of us, including another berry treat for Nathan. It was another fun day at the Footes
K & I did some fast grocery shopping @ Martin's & Wal-Mart before returning home just in time to meet John B. We invited him to join us for a glass of wine while watching the O'Reilly Factor on TV. Before leaving, John & I checked the Honda bike magneto system for spark & yes, the spark is good.
Dinner: Tilapia fish, brown rice with golden raisins, lima beans & Bing cherries.
Lights out: 12:08am