Awake: 6:15am Temp 58 sleep 6+07 mostly cloudy overnight @ Nicktown.
Kenny called & left a message during our workout @ the Community center this morning; he invited us to join him @ his home after 3:00pm today to further discuss our house building plans.
After breakfast, Kathy motored to Barnesboro & visited: the library, thrift store & grocery store. During her absence, I picked some blueberries & finished reading an aviation magazine borrowed from Barry.
Then we motored to Ebensburg & met with Kenny @ his workshop; he had cut cardboard pieces to scale of walls & the roof sections to cover the wings of a miniature model of our house from our schematic plans. Kenny felt this would further assist us in understanding the space we will have. He continues to try to supplement our weak knowledge in getting a reasonable & efficient house plan idea.
While in Ebensburg, we printed photos from our memory stick showing how the St. Augustine people make noodles in one day for their picnic.This is merely a sneak preview; (60) volunteers & (4) busy tables + a lot of activity behind the scenes. Seeing is believing!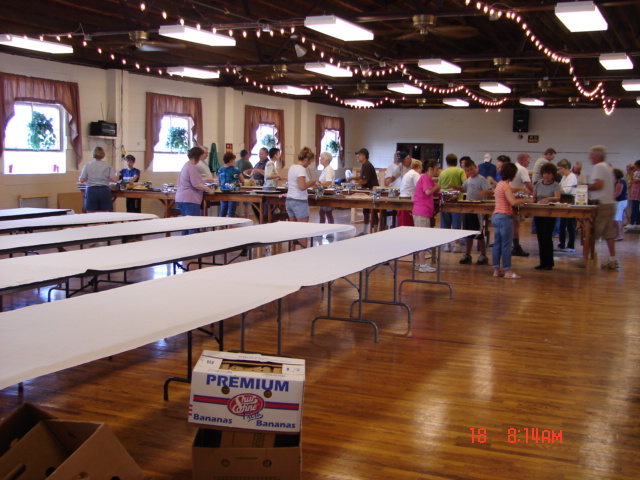 Heavy rain welcomed us as we returned to Nicktown.
Dinner: pork chops, brown rice with golden raisins + a mixed salad.
Zack called while walking home from his work in Seattle; this is his 1st time he's done the walk & talk all the way home. He amazed himself that it took only (38) min & is good exercise; plus we enjoyed talking with him along the way.
Evening movie: "39." We watched (18) min.
Lights out: 12:08am