Awake: 5:53am Temp 52 sleep 5+37 sunny...clouds overnight @ Nicktown.
"Happy Birthday to Kathy, my love!" This girl is sure looking good; she could easily pass as a "50" year old.
We left the koffee klub early & motored to Miners Hospital where we each had our blood drawn for testing in prep for our annual check-ups. Then we motored to Barnesboro & had a good breakfast @ Erma Jean's restaurant.
Next we visited an eye doctor to make an initial appointment for a check-up next week. After that stop, we toured the local thrift store then to Bi-Lo in Spangler for a few groceries & returned to Nicktown.
Phone & e-mail messages from family & friends awaited Kathy upon our return to our motorhome. It's always nice to be remembered on these special occasions.
Now that the grass is mostly dry, using our (100) ft tape measure, K & I spent time visualizing room size & kitchen size by placing marker flags inside our circular drive to correspond to the dimensions cited on the house plan. This is not the best way to get a picture of width & length...but it's a start!
Dinner: stuffed peppers & whole wheat Italian garlic bread.
Nick Skyped us late evening; within minutes, our audio & visual began to breakup which has a tendency to spoil the rendezvous occasion. Well, I thought I'd try & get a better signal, or whatever, by pulling the plug on my powered Micro USB unit; then our whole computer suddenly went into shock mode with no picture & I had no control over anything. After a few long & scary seconds, I forced the computer into shutdown & then re-connected my powered Micro USB unit. Gradually, bit by bit, everything came back to life; then an amazing thing happened: we talked & saw each other for (54) min without any breakup of audio or video what-so-ever. Skype for us has never been so clear & understandable since the beginning. Maybe all along, the plug for that Micro USB unit was not making a good contact connection? Anyway, this was a great "change" for a change.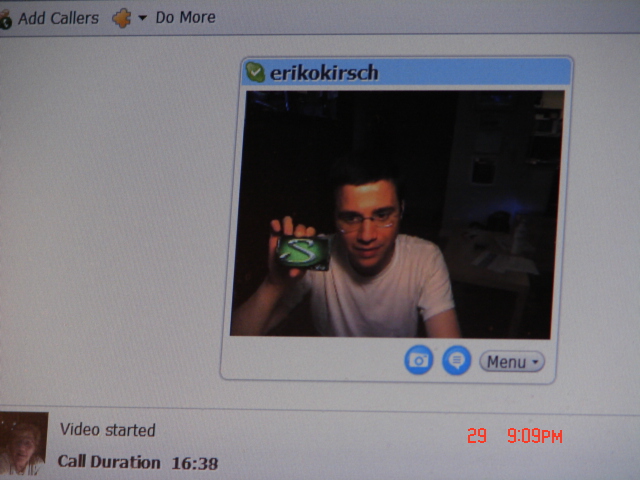 Lights out: 12:33am