Awake: 5:25am Temp 66 sleep 6+14 intermittent rain overnight @ Nicktown.
K & I left @ 8:30am & motored to Miners Hospital in Hastings. I slept reasonable well last night but was a little apprehensive about this colonoscopy ordeal. About (9) yrs ago I had a sigmoidoscopy & that was not fun, but I've been told the colonoscopy is usually a piece of cake because they knock you out. Anyway, I will spare the details & just report that all went well & I was as brave as a wimp can possibly be. @ the hospital, they gave me a small breakfast of milk & toast & sent us on our way.
Back in our motorhome, I ate my regular big bowl of mixed cereal, yogurt, frozen blueberries & frozen strawberries. Oh did that taste heavenly.
Then we motored to the Foote Castle & spent some time with the Foote boys. I was the gofer for Matthew, getting electronics parts for him while he built some interesting circuits using his electronic Snap Circuit kit.
Kathy spent time with Andrew & Nathan playing with cars, trains, & puzzles in the 1st floor playroom & in the "Bee" room.
Later outside in the back yard, we casually watched the Foote boys as they rode their bikes, pulled the wagon, played in the sandbox, etc. Happy smiles & fun times are not always displayed, but I couldn't help but illustrate this rare picture of Matthew & Andrew.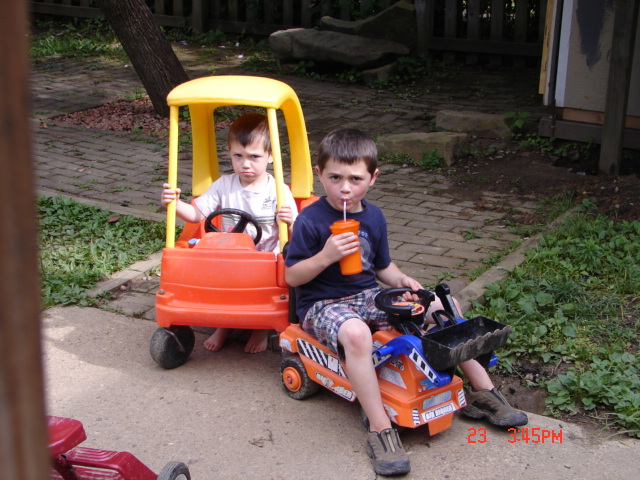 Melissa made everyone yummy smoothies before we had to leave & do our grocery shopping @ Martins & Wal-Mart.
Dinner: Italian sausage with peppers & onions, broccoli, grapes, & cherries.
Evening movie: "39." We finished this documentary featuring Hollywood's most iconic & beloved American movies of 1939; Gone with the Wind, The Wizard of Oz, Mr. Smith Goes to Washington, Wuthering Heights, Dark Victory, The Women, Gunga Din, Beau Geste, Destry Rides Again, The Young Mr. Lincoln, Stagecoach, Of Mice and Men, and Goodbye, Mr. Chips. It was also the year of "Garbo Laughs" (in Ninotchka) and of Ingrid Bergman's American debut (remaking her Swedish hit "Intermezzo"). Some great flicks; add them to your list.
Lights out: 11:42pm