Awake: 7:14am Temp 26 sleep 6+30 flurries overnight @ Nicktown.
Today is: trim the Christmas tree day. We worked together in getting the lights on & the ornaments in place. Kathy had many small ornaments that her dad made & other things she has collected.
Here is the Christmas tree with out a flash.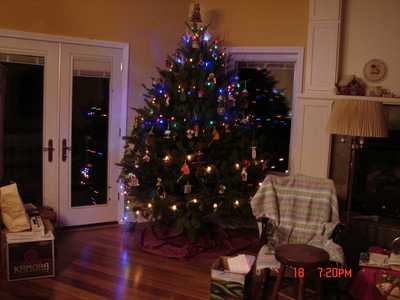 And this is with a flash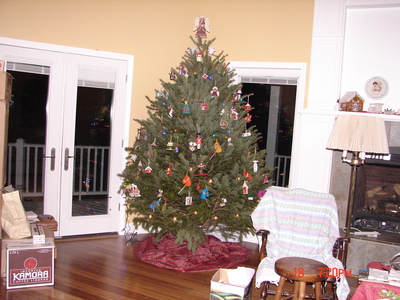 I also spent some time in my laboratory cleaning up the rubber/plastic goalies for the Foosball game. They were dirty & tough to push on the iron rods; 1st I used a drill bit turning it by hand with the size a fraction larger than the goalie's body. Then I used sand paper rapped around a smaller drill bit to smooth the rubber/plastic. That made a nice difference.
Finally I was able to push the goalies onto the metal rod & finish the project. Oh, but wait a minute! About that time, Kathy came down to the game room; she looked things over, got out the photos from years ago in Alaska & pointed to the mistakes I was making; by golly she was right.
So, once again, from start to finish, we both had many bloopers but finally tonight, we got it right. Whew!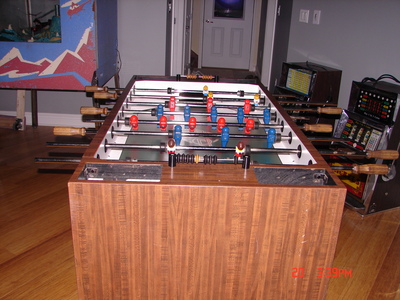 Dinner: Stuffed peppers with toast.
Nick called, basically wanting to know details about Fed-Exing some of their stuff to our house.
After talking with Nick, we called Mary Jo & thanked her for the goodie box she had sent a few days ago.
Later, Melissa called, inquiring about our arrival tomorrow for Matthew's birthday. Gregory woke up so it was a very short call.
Lights out: 11:38pm.