Awake: 5:39am Temp 28 sleep 6+01 cloudy, then rain overnight @ Nicktown.
After our KK meeting & back @ our house, K & I continued our organizing until breakfast time @ 11:30am. After breakfast, Melissa called to let us know that Abbey is doing fine, just fine, according to the specialist in Pittsburgh. We are all thankful for that.
She also said their sidewalk in front has the cover off & it will be OK to park in front of the house. Well, I took that to mean that it's the perfect time to drive the 84-Ford van with all the stuff that was packed inside over month ago. Kathy drove the Suzuki.
Sure enough, the Foote parking spot for the van was wide open. Today is Matthew's 8th birthday & we are here to help celebrate. Melissa told us that Charles, from southern Taiwan, will also be here. Charles is a student @ I.U.P, majoring in English. I've been to Taipei, Taiwan many times so we had something in common. He's seems like a really nice guy.
Due to the van plan & getting ready (taking off water proof blanket), we were a little late so we did not have a lot of time to spend before the party, but enough to have a bowl of chicken & rice.
I couldn't pass up this picture of Abbie looking @ another youngster.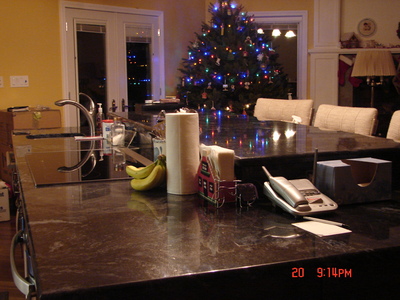 Shortly after 4:00pm, we sang the: "Happy Birthday to Matthew song." He blew out the candles on his cake & blew them out & blew them out (relighting candles) to gales of laughter from his brothers. Matthew then cut the cake & distributed a piece of cake with ice cream to each person; both very good. Then the presents; he said his two favorite presents were: Electronic Playground 130.
& the other: the Gabriel 725 Erector Set that Kathy cleaned up all the pieces.
We said our goodbyes to Charles & later, we motored back to Nicktown where we had some popcorn before retiring for the nite.
Lights out: 11:26pm.