Awake: 5:51am Temp 66 sleep 5+24 partly sunny overnight @ Nicktown.
Steve & Dave (excavators) arrived @ 6:50am; Bernie arrived @ 7:00am sharp. All of us spent about an hr walking & talking & measuring to identify a suitable area upon which to build our house. It will be close to a month before the excavators bring in their machines.
Next, K & I motored to Nanty Glo, PA & met up with Don, Josie, Adrianne & Les for breakfast @ the Niner Diner. We'd never been there before but Don & Josie frequent the place often. Hey, that Corsair prop is spinning; this is my kind of place: .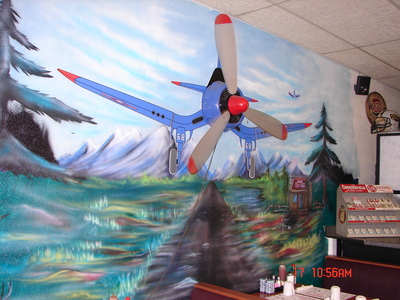 Les & Adrienne are in town for (2) days mainly so Adrienne can attend her high school reunion.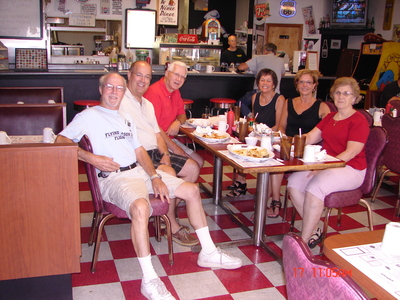 Most of these collectables are very familiar to us; the 50's & 60's were the best! After some good talk & good food, we said our goodbyes for now.
K & I toured downtown Nanty Glo a little; I browsed the largest hardware store I've been in for years while Kathy visited the St. Vincent de Paul Thrift store.
Back @ our motorhome, I got a glimpse of someone riding the Grizzly but it wasn't Chuck. Not that I am nosy, but I am curious. Sure enough, the purring Grizzly has been sold, just this afternoon..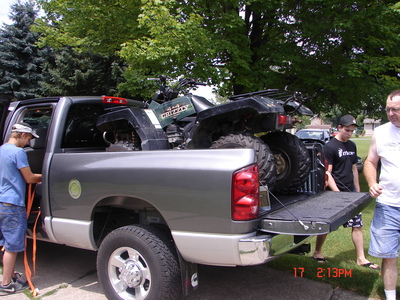 That was Chuck's plan: "when the Grizzly is healthy again, we will sell it & start looking for a new one" he told me.
K & I walked to church & attended vigil 6:00pm Mass & afterward, mingled with the Kirsch cousins in front of the church. Tomorrow they are having their annual Kirsch reunion nearby & invited K & I to join them. I let them know that we will highly consider the invitation.
Dinner: beef stew over pasta, Bing cherries, & bread.
Late evening storm (more heat lightning & regular lightening than we have ever seen before)....followed by high winds & rain.
Lights out: 11:33pm.