Awake: 7:08am Temp 66 sleep 6+39 overcast rain later overnight @ Nicktown.
After our KK meeting, K & I worked out for (1.4) hrs, then I changed clothes & started picking blueberries. Dark clouds were moving in but I tried to ignore them ....that was until the wind message before the rain. I barely made it back to the motorhome before the clouds opened up. That was @ 12:18pm.
@ 3:20pm, Bernie knocked on our door; he brought us a large set of the 1st submission drawings for our house plans. The main floor....Looks like a flying wing, huh!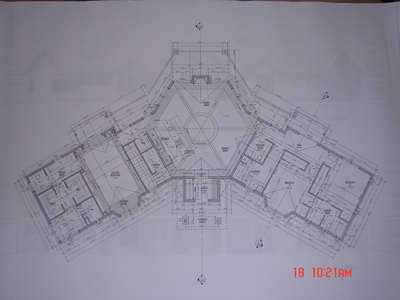 He also informed us that the excavators would arrive tomorrow @ 7:00am to properly pick out the spot where our house will be located. Bernie said he would be there @ the same time. The basement floor.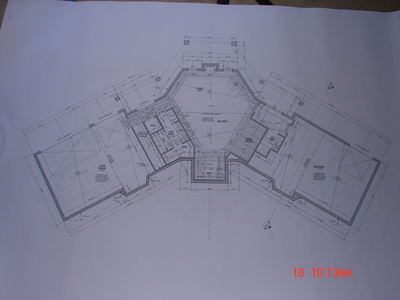 Then we called Gary & Rosemary to wish them a "Happy Anniversary" & to wish Rosemary a "Happy Birthday."
Next heavy downpour was @ 3:40pm.
Dinner: Ratatouille with pasta, a mixed salad, & Bing cherries.
Evening movie: "It Should Happen to You" with Judy Holliday, Peter Lawford, Jack Lemmon, Michael O'Shea, etc. Holliday is Gladys Glover of Binghamton, N.Y., who has come to N.Y.C. to make a name for herself....and does so, by plastering her moniker across a Columbus Circle billboard. Judy is radiant in this charming romantic comedy satire. 1954. Cute story & quite entertaining.
Lights out: 12:27am.