Awake: 6:12am Temp 29 sleep 7+18 cloudy overnight @ Nicktown.
We skipped the KK meeting this morning so Kathy could prepare a suitable breakfast for our distinguished guest, arriving very soon. He will be the 1st person to sit @ our table in our new home.
Kathy made sourdough pancakes with eggs over easy, bacon & syrup. We had quite the chat session over breakfast & then, I gave our distinguish guest a tour of our basement, the game room & laboratory.
3.5 hrs later, we said our goodbyes for now. Our guest is new in town & goes by the name of: cousin Cy.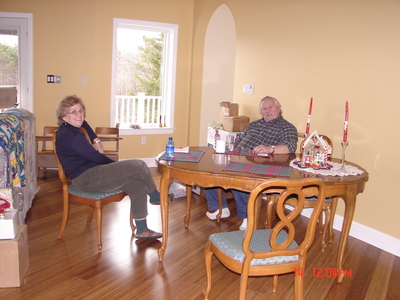 Next, K & I motored to Johnstown for groceries & other items; Conzatti's, the Market Basket, Wal-Mart & finally the Galleria Mall. We purchased (2) strings of colored lights & perused the toys @ Boscov's & then headed back to Nicktown.
Dinner: Reubin sandwich, kettle cooked potato chips, & tangerines.
After dinner, I called my brother & we began to talk about having some of his family visit us over the Christmas holiday.
Lights out: 11:07pm.