Awake: 7:05am Temp 69 sleep 6+56 sunny overnight @ Nicktown, PA.
Kathy called Theresa & asked her to substitute for her as Eucharistic minister as we would be traveling today & not be available.
After our hardy breakfast, we left @ 8:35am & motored to Cranberry Township, (88 mi) from Nicktown. We arrived @ Hillmon Appliances about (2) hrs later. We were notified that Hillmon AP has the most up-to-date units from Europe: Asko from Sweden, Fisher Paykel from Australia, Miele from Italy, etc. From USA: Sharp, Jenn Air, etc., & they are within our reach.
Greg, our sales person, has over (20) yrs of experience here @ Hillmon. Kathy had her notebook & I had my camera. We looked, talked, asked questions, gathered brochures, & took photos as Greg led us thru the vast showroom of appliances.
Not only does Greg know his stuff, but he also is a good cook & gets to do some cooking right in the store to check out the latest & greatest appliances. Here Greg is showing us a Sub-Zero refrigerator.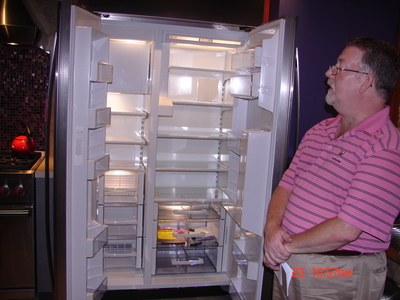 The most computerized oven we've seen yet;Jenn Aire. Greg's finger could be doing the cooking.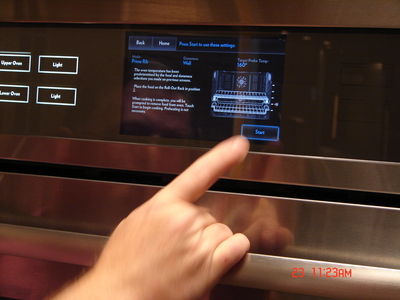 Amazing enough, we finished seeing what we wanted to see & did not feel overwhelmed.
From here, we motored about a mile & topped off the Suzuki @ Costco & then shopped mostly for groceries @ Costco.
We took a different route back to Nicktown which was more country & more scenic. Along our route, we stopped at Cunningham Meats, perused their wares & purchased some Italian sausage to try it out. We returned to our MH @ 4:40pm.
Dinner: Flounder, mixed rice pilaf, asparagus, cherries, grapes, & peaches.
Evening movie: "My Reputation." We watched ½.
Lights out:12:12am.