Awake: 6:09am Temp 39 sleep 5+59 windy - light rain overnight @ Nicktown.
After the KK meeting, I spent about (3) hrs going through our file cabinet to rid the folders of stuff no longer needed or noteworthy.
I've been keeping this folder system alive since 1962.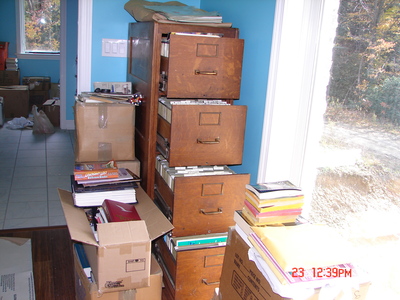 Regardless of today's harsh weather, all (5) guys of the Zernick team are working on the deck today. I feel for them on days like this but when the bill comes to us, we feel for us.
Kathy did (2) laundry loads & emptied (3) boxes throughout the day. Mid afternoon, we motored to Carrolltown to pay our respects to Ernie's mother, Vera, who passed away on Wednesday @ age (92). Ernie was my classmate in high school.
Dinner: Italian beef from Fasano's in Chicago that Ernie brought in yesterday. Very, very good. Thank you Ernie.
We watched ½ of the movie: "The Life of Sam Dolin."
Lights out: 12:08am.