Awake: 7:45am Temp 53 sleep 7+24 overcast Overnight @ San Diego, CA.
Before breakfast, using the Apple computer, I Skyped my ole buddy Ray in Ocean Park, WA for (34) min of good talk & updating. Ray has been flying some of his model airplanes during decent weather days along with other friends of model fliers. I am envious.
Kathy made sourdough pancakes with all the trimmings for breakfast. 1st time since August of last yr, & they were yummy.
After breakfast I got a surprise call from my Brookhaven Laboratory buddy, Ed; he & his wife Mary Ann are wintering again in St. Augustine, FL for (3--4) months. We visited Ed & Mary Ann the 1st week of March last yr @ their rented condo in Florida. We fully remember the nice layout those guys have as they escape the winter months from their home in Port Jefferson, Long Island, NY.
Then K & I drove downtown to Balboa Park & toured the San Diego Model Railroad Museum for a good (1.2) hrs. Oh, my gosh! Look @ all those people waiting to get into the very popular Railroad Museum. UGH!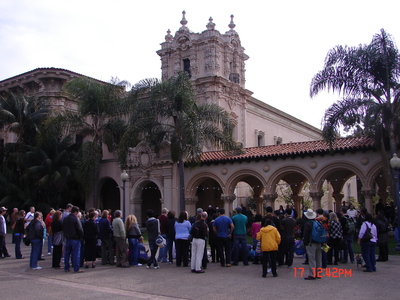 Oops, my mistake! They were merely watching a magician do his tricks. The not so crowded rail museum was perfect for our visit; we could easily speak to the controllers & have our questions answered pronto.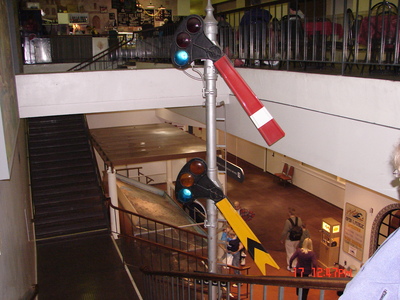 There are @ least (6) different model train layouts; each different train route displays a route leading into, or out of California during the olden days, current time or even one that was surveyed but not completed.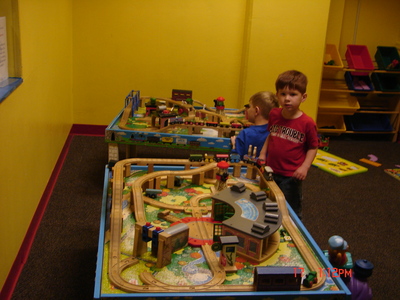 Dang....wrong photo. Be patient, I'll figure this out yet! Replicating the scenery of the mountains, hills, tunnels, trestles, towns, villages etc, was absolutely astounding. My photos don't really do it justice. Downtown USA somewhere in CA.
A tied score...Bases are loaded....full count...here comes the pitch>>>>>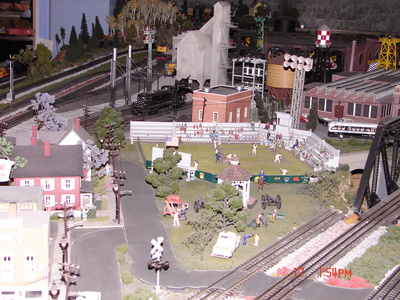 Trestle & tunnel through the mountains...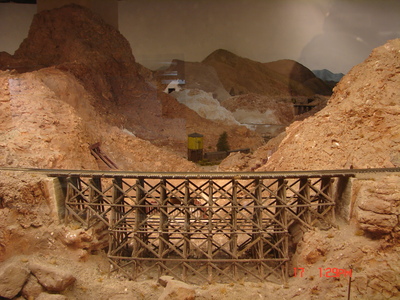 They should have taken the train.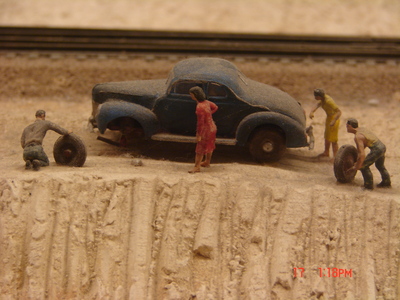 The Railroad museum was great! Now to a different world. We walked about (5) min to the outdoor Spreckels Organ Pavilion & enjoyed Dr. Carol Williams wonderful organ tunes.
Every Sunday for an hr, weather permitting, she can be seen & heard here @ the Pavilion @ 2:00pm.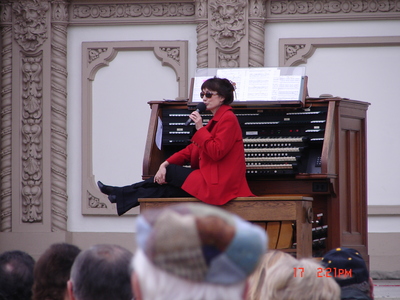 From here, we drove our Suzuki around the Balboa Park perusing many of the other museum buildings & activities. However, dark clouds were upon us as we returned to our campground.
@ the campground, we had a short visit with our nearby neighbors who are planning to leave tomorrow for Las Vegas. We wished them a Bon Voyage & safe travels just as the rain drops began to fall; we all headed indoors.
Next, I called my Nicktown buddy, John, to find out if he is weathering the winter ok. He tells me that they have had a mild week for a change. We had a lot to talk about; (31) min to be exact.
Dinner: chicken-noodle soup, mixed salad & bread.
Earlier we missed a call from Melissa, so Kathy called & by some small miracle, she answered. We both listened & talked using our split cord system for (33) min. Everyone at the Foote castle is doing well.
Melissa told us of an incident...Matthew & Andrew were playing on the third floor when someone rang the doorbell. They came charging down the stairs, saying "is it Gramma & G-daddy?" They were disappointed to find out it was not us & we were warmed to know that we're thought about & maybe even missed by our grandsons.
Evening movie: "Kramer vs. Kramer" with Dustin Hoffman, Meryl Streep, Jane Alexander, Justin Henry, Howard Duff, George Coe, etc. Wife walks out on upwardly mobile husband, leaving him to fend for himself and young son; intelligent, beautifully crafted, intensely moving film. Oscar winner for Best Picture, Actor, Screenplay, Director, Supporting Actress. 1979. Need I say more?
Lights out: 1:29am.